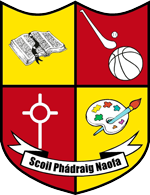 Dear Parents/Guardians,
Best wishes to all our students, staff, parents, Board of Management and parish community for the Christmas season of 2021 and health and happiness for 2022.
Kind regards,
Helen Molloy (Principal)
Reminder
Supervision and access to school is at 9.10am for Senior Infants, 2nd /3rd/6th class and 9.20am for Junior Infants/1st/4th/5th class.
Bus pupils remain on the bus until the gates open at 9.10am and then walk straight into school.
All parents have a duty of care for the safe arrival of their children to school. This includes children who arrive on the school bus.
Young children are not to be left at the gates unattended at any time.
Please note that no responsibility is accepted for pupils waiting outside the school before their assigned times.
Covid 19 Response Plan
Please continue to respect our Covid 19 Response Plan that has been devised to ensure the safety of all our pupils and staff.
Do not send your child to school if they are unwell or showing signs of Covid 19.
Contact the school immediately if your child has a positive PCR or antigen test. By phone 059 9161304 or email rathvilly.ns@gmail.com
Notify the school of any change in contact number or address.
We ask that all adults wear masks while collecting and dropping their children and do not congregate at the school gates.
What Has Been Happening in our school ……
Tag Rugby
· Children in 1st, 2nd,5th & 6th Class are enjoying their weekly Tag Rugby sessions.
Futsal
· 3rd & 4th Class had great fun participating in Futsal recently
Music Generation
Children from 3rd -6th Class have been engaged in music lessons this term.
· Cyberbullying Workshop
Tullow Area School Completion have delivered a workshop to 4th ,5th and 6th class on the dangers of cyberbullying and safety tips. Thank you to JJ, Amanda, Garda Rowe and Garda Bergin for engaging with the pupils.
· 12 Days of Fitmas
Mr. O'Toole is keeping us all active with the 12 Days of Fitmas. Classes who are involved do an exercise each hour on the hour.
· MS Readathon
Well done to 3rd Class who took part in the MS Readathon in November. The children had great fun reading different books and €170 was raised for Multiple Sclerosis Ireland.
· BLAST
The Department of Education has developed a new innovative Arts-in -Education BLAST Residency Programme this year.
Our school recently received the great news that we have qualified to work with an artist in residence next spring. Fifth Class will have the opportunity to work alongside a professional artist on a unique project for our school.
· Class windows/Christmas art
Children in all classes are having great fun decorating their classroom windows for Christmas. The winning class will get a night off homework along with a certificate.
Good luck everyone!!
· Tullow Youth Project
Our 6th Class pupils are enjoying different activities after school each week with Tullow Youth Project.
· Crazy Hair and mad Socks Day
Thank you to all the pupils and staff who participated and supported our fundraising event. A total of €285.50 was raised and will be presented to Rathvilly Development Group.
Upcoming events and dates to remember
Friday 17th Dec: Christmas Jumper Day- €2 per child in aid of St. Vincent de Paul.
Mon. 20th Dec: School assembly outdoors-weather permitting.
Wednesday 22nd Dec: Christmas Holidays
Bus Pupils/Junior/Senior Infants 11.50 am
2nd/3rd/6th 12.00pm
1st/4th /5th 12.10pm
Thursday 6th of Jan 2022: School reopens at 9.10am and 9.20am
School books
School books will be sent home this week to allow for a deep clean of the school over the Christmas holidays.
Parents' Association
The Parents' Association are running their annual Christmas Bag Drop for the Homeless. Bags can be dropped off at the school gates from 13th-18th of December. Backpacks can be filled with non-perishable wash/and or clothing items. Suggested items are bar of soap,toothbrush, toothpaste,deodorant,baby wipes, socks, gloves , hats etc…..We would like to thank the Parents' Association for their work this term and we look forward to what they have in store for the children in the next week.
Board of Management
On behalf of the Board of Management we would like to wish everyone a very peaceful and safe Christmas and a healthy and joyful New Year.
Nollaig Shona agus Athbhliain faoi Mhaise Daoibh.